Mastellone Giuseppe
Our production is one of the most qualified. Our articles, our high quality products are made with raw materials strictly made in Italy.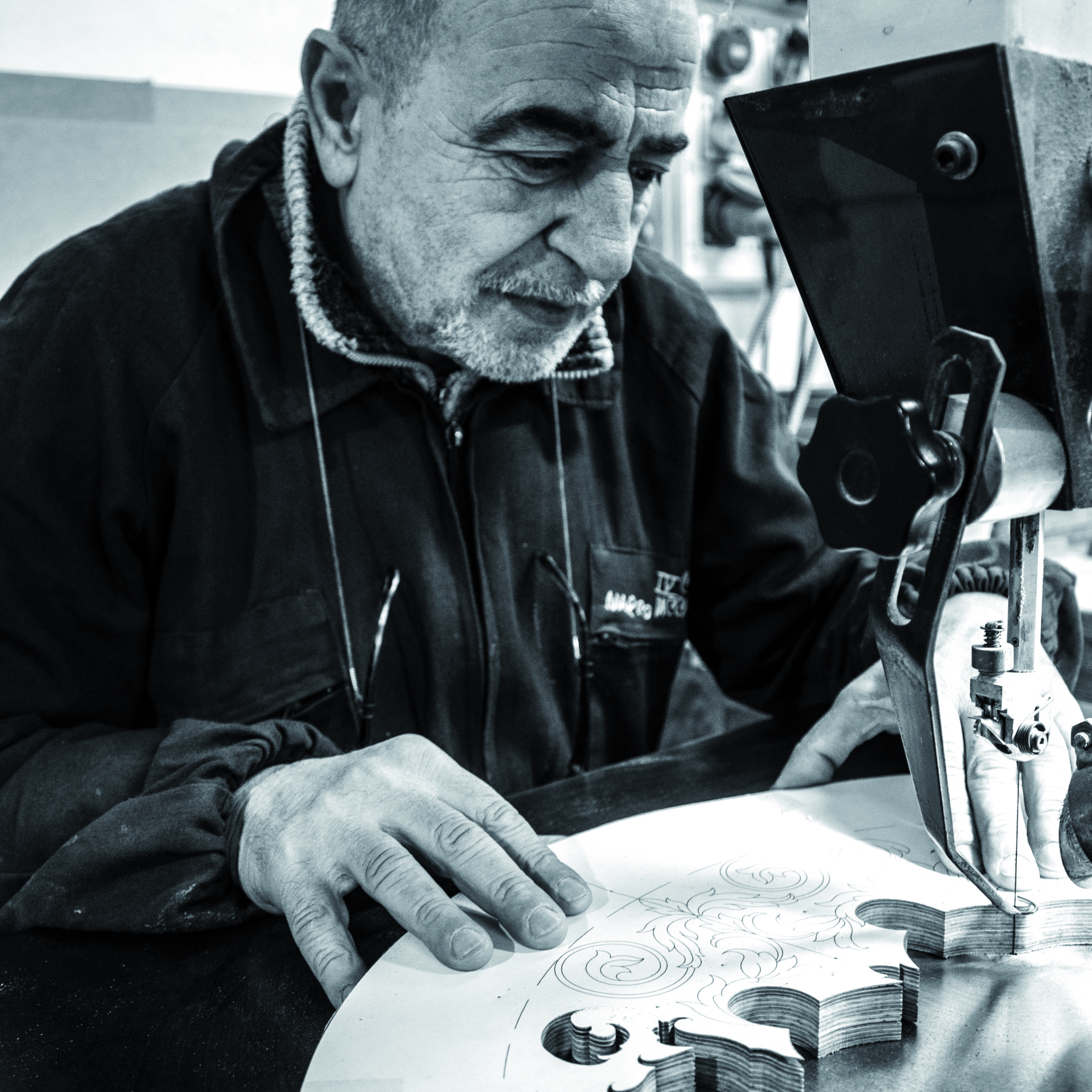 The "Mastellone Giuseppe" company has a long experience the production of inlaid wood works.
We're specialised in the creation of inlaid furniture, tableware, home accessories such as trays, Lazysusan, placemats, wooden boxes,tables, etc…
Our production, so varied in design and products, is continually renewed annually, with the introduction on the market of new and unique articles.
The products and our designs are studied to be inserted into any kind of environment, from classic to modern, designed to satisfy the most demanding customers.
The production and design is all assigned to our artisans from beginning to end of the production chain, this allows the customer personalize a design and size of any product present in our catalog.
We are present on the international market (USA, Japan, UK, Europe) and in particular in the Middle East, with modern furniture, and classic interior design for villas and residences for over 20 years. Moreover our products are made according to the traditional art of Sorrento marquetry.
Our production is one of the most qualified with high artistic and quality of the products, using raw materials strictly made in Italy.
Moreover, in the person of Mastellone Giuseppe, and his sons Gennaro and Umberto, he combines experience, passion and art, with the collaboration of a highly selected personnel who exercises the profession in perfect harmony with colors, fantasy and art, shall make it available to its customers throughout the world.
"Creating an inlaid wood work is each time how to fix the soul in the wood!"
Mastellone Giuseppe
An inlaid item is more than just a piece of furniture. It is a work of art that will bring you years and years of pleasure and enjoyment!
The art of inlaid wood began in Sorrento more than 150 years ago. The techniques and fine quality woods are still being used today. The most skilled artisans in Sorrento work on these fine masterpieces so make it a point to visit this town and buy some of these exquisite items. They are heirlooms to your family.
MASTELLONE GIUSEPPE in one of the best master in Sorrento and here you will be able to roam around our Show Room displaying beautiful boxes, pictures, trays…
MASTELLONE GIUSEPPE
guarantees that their pieces are
"AUTHENTIC AND ORIGINAL INLAID WORKS OF ART"
MASTELLONE GIUSEPPE
The artist was born in Sorrento, Italy, on April 14, 1956. He attended from the local art school in Sorrento. During his summer vacations, he worked with one of the best artists in Sorrento: Antonio Davide. When he graduated, he continued working with his master for may, many years. He learned all he knows from Mr. Davide and since his master's death, Mr. Mastellone has continued to make these magnificent art pieces. He specializes in arabesque and the traditional sorrentine scroll. He is considered one of the best master in Sorrento. He uses the birds' eye maple, walnut, olive wood, ebony, Brazilian rosewood, elm wood and padouck. He lives in Sorrento, is happily married and has two children, Gennaro and Umberto, who continues this fascinating tradition with enthusiasm and passion.
the numbers of our handcrafted activity
Authentic handmade produtcs
Our products are all handmade by Master Artisans following the traditional Sorrento inlaid wood art.
Made in Italy
All the raw materials used are exclusively made in Italy.
Original drawings
All our products are original creations designed and manufactured in our factory.
Customizations
Possibility to customize the products in colors, shapes and designs.
Original Gift
Our products are ideal for gifts to friends, for events and weddings.
Worldwide shipping
We ship worldwide with DHL express courier

Wonderful, unique and high quality products!
I bought some lamps for my home and I was amazed by the quality of the products and the very fast shipping.
Daniel

"The coasters are even more gorgeous in reality. Great craftmanship, thank you so much!"
Nina

"The board is even better in person. It was received very quickly and a great experience overall."
Talia

"I will definitely reorder!"
"Really love this tray, will order more from this shop for sure…"
Angela
Via Tasso, 19 - Sorrento (NA)
MON – FRI
08:00 – 13:00
14:30 – 18:00
Via Vincenzo C.A. Ferraro, 18 - Sant'Agnello (NA)